Every year leaders invest the time, energy and money to implement strategy but to varying degrees of success.
Since 2000, Bridges has been researching strategy implementation. When we first started we struggled to find data in our field. This was the catalyst initiating our first survey that produced the astonishing result that 90% of implementations were, at that time, failing. When we published the results in 2004, social media was just starting, but the high failure rate still went viral. Like the Olympics, our researchers roll around every four years.
Bridges is among the few consultancies in the world to consistently track strategy implementation performance. Our latest research leverages 20 years of trends in strategy implementation as well as reporting recent results. It's Bridges' mantra to "support leaders to succeed in implementing their strategy." Our 20 years of research reveals interesting trends toward accomplishing that.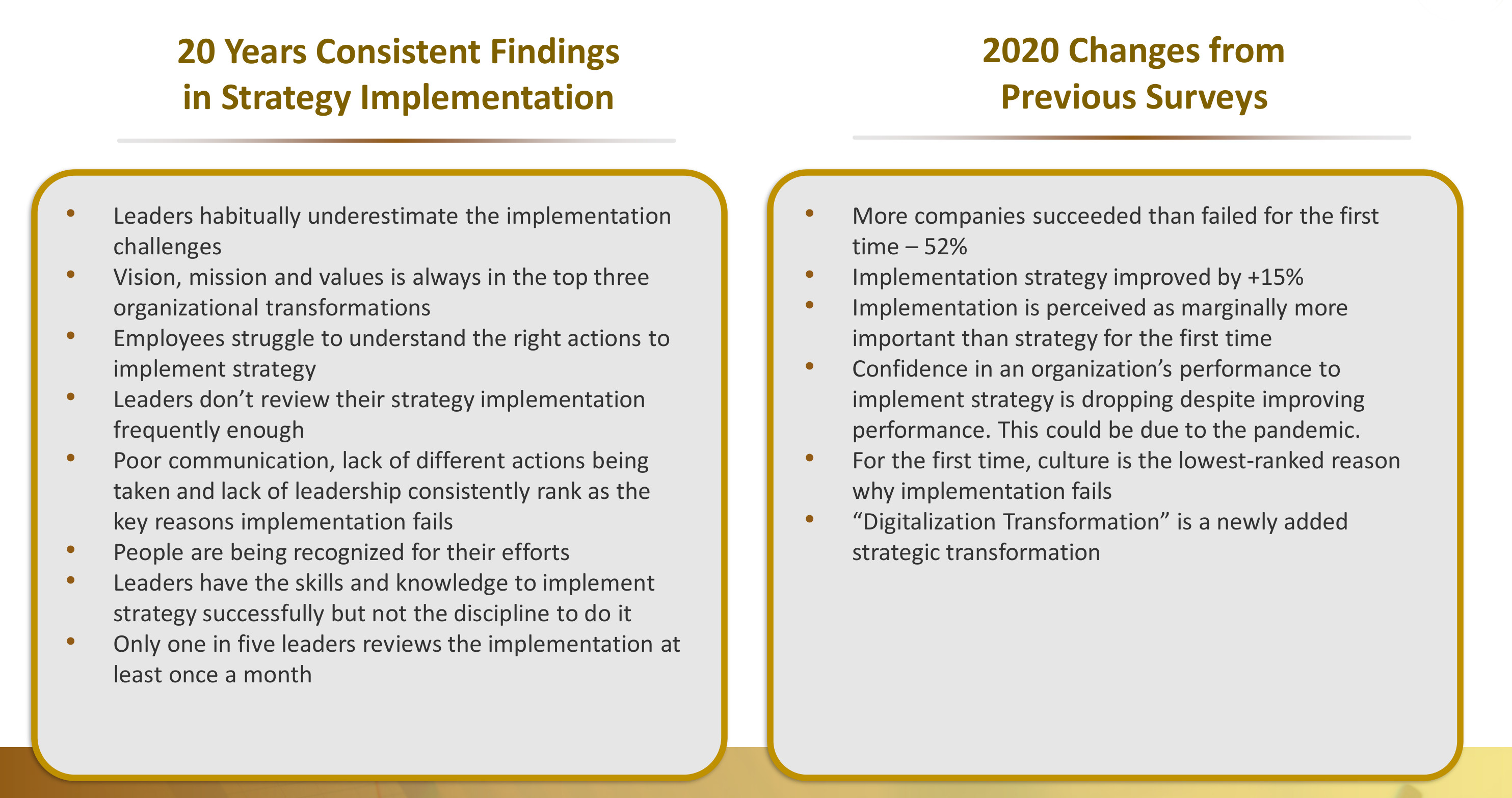 ---
Future of Strategy Implementation
In collaboration with the Strategy Implementation Institute the white paper was published from the future of strategy implementation. The paper emerged after the 2020 international virtual conference that discussed the following six future trends:
Implementation Prioritization
Shift in Leadership Style to Implement in a Digital World
Leverage AI in Implementation
Increasing Importance of Middle Managers in Strategy Implementation
Purpose-Driven Strategy Implementation
Culture of Flexibility
---
S

tate of Digital
Bridges and PerformanceWorks collaboration into the state of digital in companies in 2019, reveals some fascinating and uncomfortable views.The white paper focuses on how companies are transforming into digital-driven businesses
Digital transformation is leveling the competitive playfield and most leaders are not ready. Time is running out…
Transforming Your Company into a Digital-Driven Business
Strong results in 2018 won't guarantee success in 2019. Leaders are now being challenged to build and develop their company's digital infrastructure faster and more effectively to meet the demands for tomorrow.
According to IBM and Forbes the digital strategy failure rate is as high as 84%.
The research we conducted targeted 1,874 leaders across the Asia Pacific, North America and Europe on their views of digital transformation and their readiness to implement it. It produced fascinating and even uncomfortable insights such as
Companies and leaders are not prepared for a digital driven world in 2019.
Digital transformation is not deemed as urgent by almost 50% of the leaders interviewed.
Digital is levelling the international competitive playing field.
We wanted this research to be action-oriented, helping companies fast track their transformation across all aspects of their businesses, strategically and operationally; internally an externally.
Within the White paper, we have been clear to draw relevant conclusions and suggested actions, including a 3-stage, 11 step model to help any company fast track their whole business transformation.
Both Robin and Jeremy had the advantage of road-testing their model throughout the research phase with positive results. If you would like to discuss how they can assist your leadership team in digital execution please email:
Robin Speculand at [email protected] (Asia Pacific)
Jeremy Blain at [email protected] (Europe/USA)
Robin and Jeremy discussing some of the key messages from the research
Bridges 10 Years Implementation Survey Results
Check out our first 10 years of research and find out some starling and interesting facts on strategy implementation.
Previous Bridges Strategy Implementation Research
2016 brought good news in that organizations are improving in their ability to implement strategy and the failure rate has fallen from 90% (2002) to 67% (2016). One in every two leaders rated implementation as equal in importance to strategy. Most people (78%) feel recognized for their implementation efforts in their organizations. It is a concern that leaders spend only one day a month discussing their strategy's implementation. Also concerning is that fewer leaders (down from 80% to 68%) believe their organization is good at developing strategy compared with 2012 research, and that one in three leaders rates its organization as being poor or very poor in its ability to implement.
Strategy Implementation Survey Results 2012

Our 10 years of research brought some startling responses. It was the first year you were able to gather online responses.
Outlined are the top-line results from this survey.
Please download our research documents in PDF and ppsx format.
System Requirement: You need Adobe Acrobat Reader and MS PowerPoint to view them.
"Leaders need to be held accountable for both short-term and long-term performance
to overcome the implementation juxtaposition."

Robin Speculand